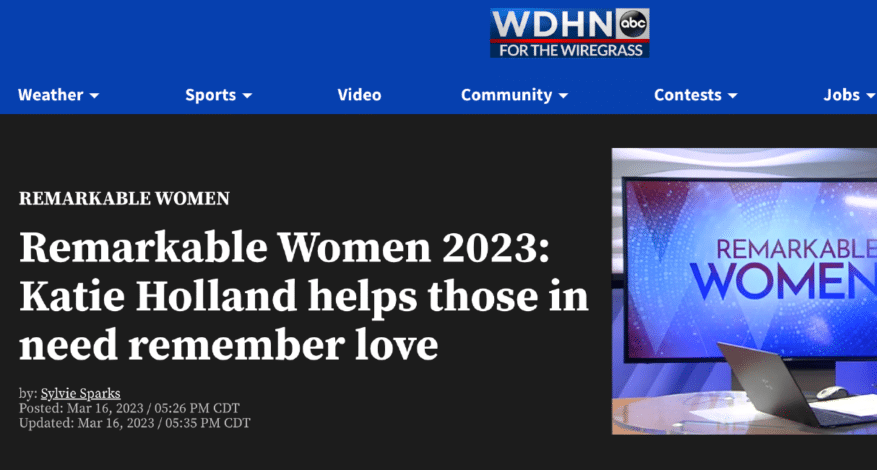 News
NEWS: Remarkable Women 2023: Katie Holland Helps Those in Need Remember Love
By Sylvie Sparks WDHN-TV
DOTHAN, Ala. (WDHN) — Four days a week at First United Methodist Church in Dothan the halls come alive with laughter and music.
Respite Care Ministry volunteers work with dementia patients every Monday through Thursday to give their caregivers a break.
"We created it for the caregiver, but what we didn't know is how much the participants were going to really benefit from this as well," Director of Respite Care Ministry Katie Holland said.
Katie Holland started Respite Care Ministry in Dothan seven years ago after caring for her father, who had Alzheimer's.
"I noticed a need in the community," Holland said. "We needed help. We needed something for him to do, something that was active."
Seven years later the ministry has grown to serving up to 15 participants every day four times a week.
"I see the difference that it makes in the caregivers' lives," Holland said. "The respite, the break, is everything to them. It keeps them going from a day that's 24/7."
The patients may not remember the activities, but they often remember the love they felt.
"We provide a place for them to still feel purpose and feel loved and feel meaning," Holland said "We have to tell our caregivers, 'When they get in the car, they can't tell you everything they did here. They don't remember, but they remember they were loved.'"
In her free time, Katie likes to exercise and do arts and crafts.
Using those gifts to help dementia patients is her true passion.
"She has an energy that you don't get around very often and she has an infectious approach to things," Respite Care Ministry volunteer Tharel Shirah said.
The ministry has more than 100 trained volunteers.
Shirah, who's been volunteering since close to the beginning, says Katie takes the bull by the horns.
"Katie doesn't just walk in and start something, she really shines when she does things," Shirah said.
Katie says while running Respite Care has its challenges the reward is far greater.
"Every day I have to pinch myself that I've gotten to be a part of this from the beginning and watch it grow," Holland said. "It's one of the hardest and best things I've ever done."
Link: https://www.wdhn.com/remarkable-women/remarkable-women-2023-katie-holland-helps-those-in-need-remember-love/?fbclid=IwAR2p6mi-BlAnuCqCNkdqoBKFgDkQ-DwzjRbE_YlXDE1z3gyqyDzQ_nGjT1E