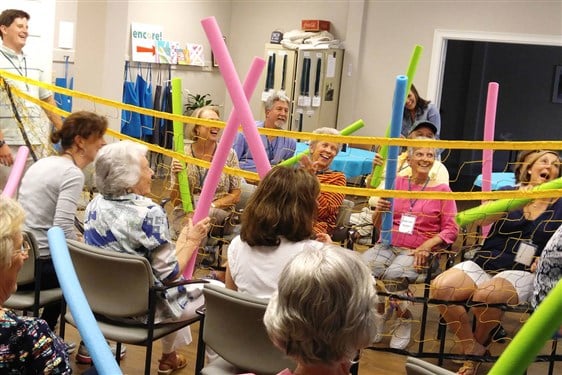 News
NEWS: New Dementia and Memory-loss Ministry at Canterbury UMC
North Alabama Conference of The United Methodist Church
Imagine being the primary caregiver for a loved one with Alzheimer's. This could be your mother, father, or spouse who requires 24-hour supervision and care. For many in our community this is a daily reality. In our state alone, over 180,000 family members are currently serving as caregivers. Over the last decade, the number of people living with Alzheimer's in Alabama has grown 8% and there are currently 93,000 Alabamians with Alzheimer's.
These statistics show what a great need there is for those affected by memory loss in our community. Caregivers need a break for personal time and those living with Alzheimer's or dementia need activities that can help them stay involved and engaged. So, after much consideration and discernment, Canterbury UMC recently opened its doors to its new ministry, "Encore," to help fulfill this need.
This new ministry is open to all faith backgrounds in the Birmingham community and all are welcome. It is designed to provide a safe haven of friendship and fun for its participants as well as a rejuvenating break for the caregiver. It actively engages those affected by Alzheimer's and other forms of dementia. According to Valerie Boyd, Director of Senior Adult Ministries at Canterbury, the new Encore respite ministry is something that is "long overdue in our community." "Encore is not a daycare," says Boyd. "It's a 'social model' program designed to not only provide caregivers a break in their day, but also to allow for the participants to enjoy activities created specifically to provide spiritual, physical, intellectual, and social stimulation for people with dementia."
Patti Williams, Program Director and Kristen Snell, Community and Family Educator comprise the staff for Encore.  Together, they have extensive experience in healthcare and working with the senior adult population, as well as music, art, and engaging activities.  Encore provides participants with activities such as arts and crafts, light exercise, chapel and communion, music, dancing, lunch, and much more. "However, it's not about all the activities. It is about feeling needed, loved, and successful," said Boyd.
Williams and Snell work to provide participants, family members, and caregivers with the activity, support and education they need right now. Then once a participant no longer meets the criteria to be in the Encore program, they will walk the next steps with the family, making recommendations for appropriate options.  "We have already grown so close to everyone. We love each one of our participants, and are in this journey with them for the long haul," says Williams.
The Encore program is open for registered participants on Tuesdays and Thursdays from 10 a.m. to 2 p.m. at Canterbury United Methodist Church. The cost is $40 per day. However, scholarships are provided to help families who may not be able to afford it. "We will never turn anyone away if they are not able to pay" Boyd said. The program began with a small number of participants but has grown to 18 in a very short amount of time. Encore hopes to open another day by October 1 and add a 4th day after the first of the year. The ministry is seeking both volunteers and donations to make that goal a reality. For more information, please call 205.874.1525.
Volunteers Needed
Many volunteers are needed as Encore aims for a one-to-one ratio of volunteers to participants. Volunteers don't need to have any previous training in Alzheimer's or health care. They are simply needed to guide, interact, and engage with the participants. Everything they need to know is taught in a training session – which are held periodically. There will be a volunteer training held at Canterbury on September 19 from 9:30am-12pm. Please contact Kristen Snell at encorekristen@gmail.com or call 874-1525 to register.
Donations Needed
Encore is primarily funded through donations. Those wishing to make donations to help with the program and aid in creating scholarships are asked to contact Valerie Boyd at valerie.boyd@canterburyumc.org or call the church at 205-874-1523.
Statistics provided by Alzheimer's of Central Alabama
To Read the Original Article, Link Here: https://www.umcna.org/postdetail/new-dementia-and-memory-loss-ministry-at-canterbury-umc-7049201