While a dementia diagnosis may seem isolating, we want all those living with the disease and their caregivers to know that they are not alone. Listed below are some of our favorite books to help provide different perspectives from the world of dementia.
Reclaiming Joy Together
Daphne Johnston
"When you're immersed in Respite, when you're fully present and enter into engaged relationships with those on the journey with you, you will feel the warmth of God's healing — of physical disease and mental isolation — in a tangible way. No government agency, healthcare entity, or private industry can provide the meaning or have the impact that compassionate human interaction delivered with God's love can."
Reclaiming Joy Together is a book meant to serve as both inspiration and a practical tool that will allow others to successfully build a local Respite Ministry to honor and care for those families with Alzheimer's disease and other forms of dementia. But this book is not just a summary of what the Respite Community and program have learned and become. It also explains the vision for the future and a sustainable response – to build a nation of Respite Communities all guided by one driving purpose: to come alongside others who need the help of neighbors and new friends.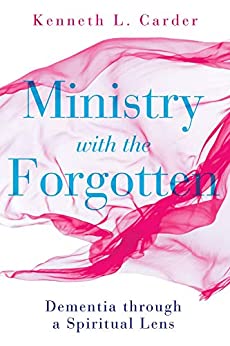 Ministry with the Forgotten: Dementia through a Spiritual Lens
Kenneth L. Carder
While acknowledging the devastation of dementia diseases, Bishop Ken Carder draws on his experience as a caregiver, hospice chaplain, and pastoral practitioner to portray the gifts and challenges accompanying the world of dementia.
In his journey, he confronts the profoundly personal and theological questions created by loving people with dementia while demonstrating how living with memory loss can be a means of growing in faith, wholeness, and ministry for the entire faith community.
He also reveals that authentic faith transcends intellectual beliefs, verbal affirmations, and prescribed practices. Instead, Bishop Carder asserts that the Judeo-Christian tradition offers a broader lens, defining personhood in relationship to God's story and humanity's participation in God's mighty acts of creation, thereby contributing to hope, community, and self-worth.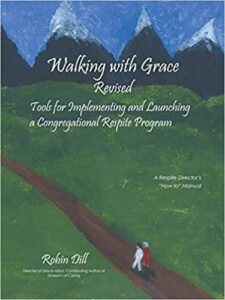 Walking with Grace Revised
Robin Dill
Walking with Grace Revised is a manual that will aid churches and faith-based communities in the process of discerning or starting a congregational Respite program. It is filled with eleven-plus years of tips, strategies, ideas, activities, and advice to ensure the success of a local program and is often dubbed a director's "how-to" manual. From the program ideation to the day-to-day running of a ministry, this tool will equip and inspire all who read it.
*Staff Pick: "This is an excellent resource for building and implementing a new Respite program. Robin is a congregational Respite pioneer and vital in the development of the local Montgomery Respite Ministry for me. She is a wonderful mentor, care partner, speaker, and resource."
-Daphne Johnston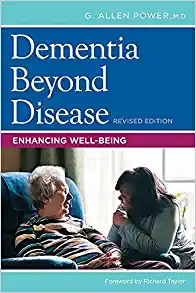 Dementia Beyond Disease: Enhancing Well-Being, Revised Edition
G. Allen Power, M.D.
This book builds upon the foundation of Power's award-winning book, Dementia Beyond Drugs, to reframe the care and support of people living with dementia. Power presents a strengths-based approach that focuses on enhancing seven domains of well-being for individuals in all living environments. In doing so, he challenges many of our long-held practices and provides an innovative approach that can lead to sustained improvements in the lives of people with dementia and their partners in care. The revised edition refines the language and attitudes required to achieve the author's goals and includes new research supporting his approach.
*Staff Note: Respite for All co-founder, Daphne Johnston, based the Respite for All volunteer training and ideals on Dr. Power's well-being approach. Respite strives to fill everyone participating in the program with well-being through one-on-one relationships and group dynamics.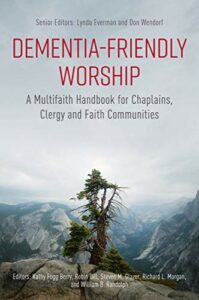 Dementia-Friendly Worship: A Multifaith Handbook for Chaplains, Clergy and Faith Communities
Senior Editors: Lynda Everman and Don Wendorf
Religious faith is a powerful source of comfort and support for individuals and families facing dementia. However, many faith leaders need help adapting their ministries to address this group's worship/spiritual needs. A product of Faith United Against Alzheimer's, this handbook by 45 different authors represents diverse faith traditions, including Christianity, Islam, Judaism, Sikhism, Buddhism, and Native American. It provides practical help in developing services and creating dementia-friendly faith communities.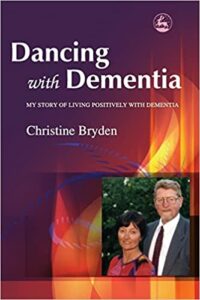 Dancing with Dementia: My Story of Living Positively with Dementia
Christine Bryden
Christine Bryden was a top civil servant and single mother of three children when she was diagnosed with dementia at the age of 46. Since then, she has gone on to challenge almost every stereotype of people living with dementia by campaigning for self-advocacy, writing articles, and speaking at national conferences.
This book is a vivid account of the author's experiences of living with dementia, exploring the effects of memory problems, loss of independence, difficulties in communication, and the exhaustion of coping with simple tasks. She describes how, with the support of her husband, Paul, she continues to lead an active life, nevertheless, and explains how professionals and carers can help.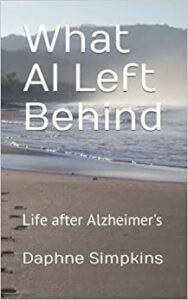 What Al Left Behind: Life After Alzheimer's
Daphne Simpkins
There is a surprising and very freeing future for caregivers after Alzheimer's disease runs its course and leaves the building that you've been trying to make a home in. The house will never be the same. Your heart will never feel the same. But despite its bad reputation, living with Al isn't all about heartbreak. It is about change, for Al refocuses how you see yourself, your home, the people around you, the way you wake up to your day, and even envision your future — and some of those changes are quite liberating.
*Staff Note: We love this book because Daphne's view of what care partners face during the journey of dementia is, in many cases, the exact tool needed to look at dementia from a different angle. This book helps you gain a new perspective on what truly matters in life.