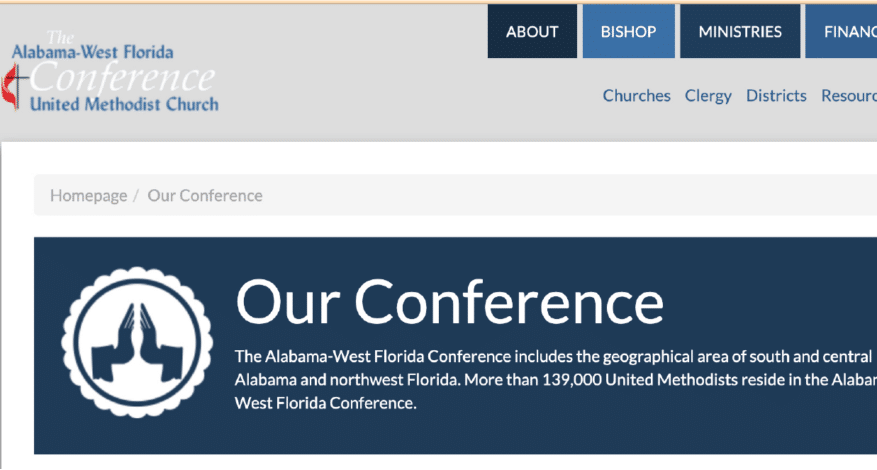 News
NEWS: Award Winner
The Alabama-West Florida Conference
Led by Bishop David W. Graves, the Alabama – West Florida Annual Conference is dedicated to its mission of making disciples of Jesus Christ for the transformation of the world. The conference steadfastly works toward a vision of thriving churches where disciple-making ministries are brought to life. The conference identifies four specific areas in which that vision is turned into reality. These priorities are:
Growing God's kingdom by making disciples and developing a multiplication mindset throughout the annual conference.
Attracting and retaining exceptional talent that helps promote a culture of call for clergy and laity.
Teaching, training, and coaching to support excellent preaching so that people encounter Jesus and live out the Great Commission.
Being adaptive leaders through uncharted times emphasizing connectionalism and focusing on Kingdom work.
The Alabama – West Florida Conference has more than 139,000 members, including about 900 active and retired pastors serving over 600 churches.
Alice Lee Award
Daphne Johnston, Montgomery FUMC   
Daphne Johnston is the embodiment of the Alice Lee Award. She is an outstanding, influential female leader in our conference and an all-around incredible person. She is changing the face of caregiving and Alzheimer's care in Montgomery and throughout the state of Alabama.
Daphne has a wealth of experience and expertise in the area of memory care.  After managing an Alzheimer's unit in West Point, GA for a number of years, she went on to serve as Executive Director of a large retirement community.  She channels all ofthis experience and a whole lot of heart into the program she has developed and runs at First United Methodist Church in Montgomery, Alabama   This program is a church and community effort, run with the help of volunteers from First United Methodist and at least five other churches and faith communities in the area. The program boasts over 110 dementia-trained  volunteers from all over the Montgomery area and beyond. It is life-affirming for the over 200 participants it has blessed in its four years of operation and life-giving for their caregivers, not to mention the faithful volunteers.
The hugely successful Respite Ministry at First United Methodist Church has birthed new programs throughout the state of Alabama, one of them about to launch at our church here in Auburn, AL. Daphne has been instrumental in helping us and other churches to duplicate the program in Montgomery because it is such a life-changing ministry for all involved. This program gives those living with memory loss physical, mental and social interaction that they would otherwise not receive. Studies show that this kind of stimulation may help to slow the progression of the disease. The support, encouragement and love given to caregivers through this ministry cannot be discounted. Daphne is helping individuals and their family members to find purpose, dignity and support as they navigate the road of memory-loss.
Daphne promotes the cause of women in our conference by enabling other women to duplicate her efforts in their own church-settings. She knows the impact this Respite Program has on individuals, their caregivers and the community and she will not stop until it has transformed our state. I am amazed daily at her compassion, strength and courage in seeing her vision become a reality and sharing that vision with others.
She is an unstoppable force in our conference, state, and beyond. What she has done with the Respite Ministry at First United Methodist in Montgomery is more than reason enough to give  her this award.  But she will not be content until every community in our state has a program like the one there because she knows how lives are changed by this incredible program.  Her volunteers, participants, and caregivers will tell you that they are forever-changed for the better because of her vision, energy and enthusiasm  for an often forgotten, neglected , growing population in our country.
To Read the Original Article, Link Here: https://www.awfumc.org/awardwinnerbios2017#:~:text=Daphne%20Johnston%20is%20the%20embodiment%20of%20the%20Alice,in%20Montgomery%20and%20throughout%20the%20state%20of%20Alabama