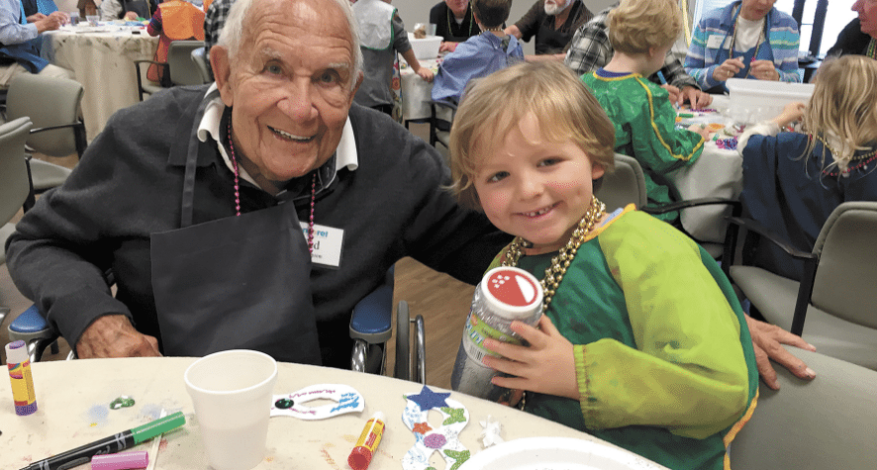 News
NEWS: A Day Away: Encore Ministry Gives Help, Hope to Seniors With Memory Loss and Their Caregivers
By June Mathews Over The Mountain Journal
Patti Williams knew what she was getting into when she agreed to become program director for Encore, a respite care ministry at Canterbury United Methodist Church in Mountain Brook. She just didn't know how great the interest would be.
In a matter of months, the program has exceeded her expectations, and with its first anniversary coming up in June, attendance and participation, as well as enthusiasm, continue to grow, she said.
"We knew there was a need, but we didn't know how big it was," Williams said. "We started out meeting two days a week and quickly went to three. We really need to open up another day and plan to do that in the near future. We currently have around 23 participants each day, and there's a waiting list."
The ministry's mission is "to meet the social and emotional needs of older adults with mild-moderate memory loss and/or medical impairments and to provide respite for their caregivers," according to its Facebook page. The program is open to anyone in the Birmingham community, and people from all faiths and walks of life are welcome.
"Right now, 20 churches are represented," Williams said.
Because the program revolves around keeping participants physically and mentally active, they must be able to walk, feed themselves and take care of their own bathroom needs.
A typical day begins with morning coffee, a devotional time and exercise, then continues with a selection of activities that might include art, a lecture on something of interest to senior adults, poetry writing, a trivia competition, a rousing game of volleyball played with pool noodles while sitting in chairs, and lots of music. Chapel services with communion are held at least once a month, and anyone may attend.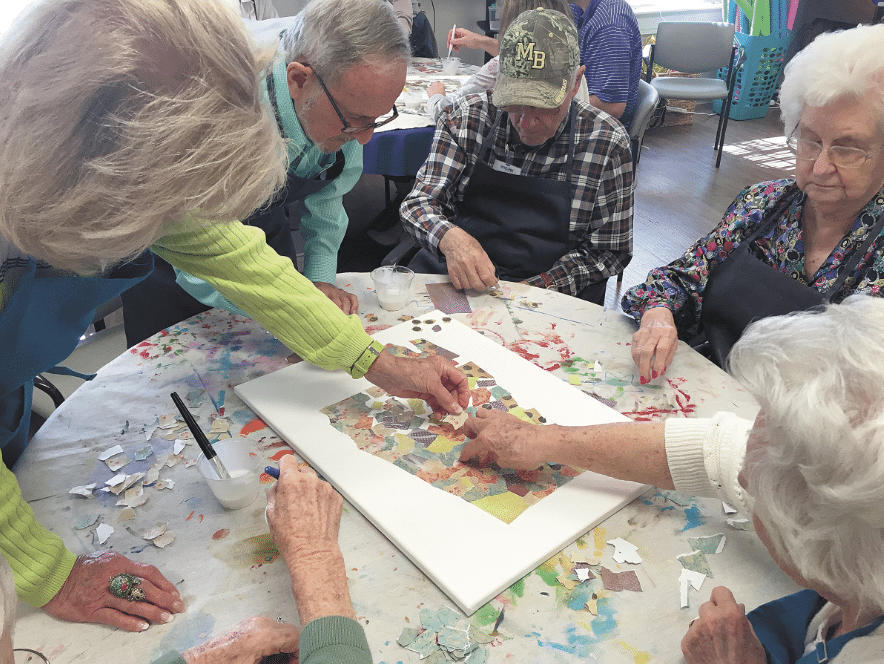 Another aspect of the program provides participants with opportunities to serve others through projects such as assembling snack and toiletry kits for the homeless, packing groceries for the Brown Bag Project food ministry at Canterbury and bundling vegetable bags for St. Andrews Society, an organization that works to distribute produce that might otherwise go to waste.
"A lot of our participants are people who have been active in their community and in the business world," said Williams, "so helping others is something they've always done. Many of them can't do the things they used to do, which is frustrating. But everything we do is designed for them to succeed, so they can all leave here feeling good about themselves."
Williams said relatives have reported that participants sleep better and are happier, more engaged and more active than they were before starting the program.
"In addition to word of mouth, we get referrals from the UAB Memory Disorders Clinic and have seen improvement in many cases," Williams said.
The vision for Encore came through Canterbury's director of senior adult ministries, Valerie Boyd, who visited a similar program at First United Methodist Church in Montgomery and saw the possibilities for her own church.
Two paid staff members, Williams and family and community educator Kristen Snell, work alongside a host of trained volunteers. Williams said the ratio of volunteers to participants is nearly 1-to-1.
"Anyone can volunteer, but we require that they attend a training session," said Williams. "We want them to learn communication skills for working with people who have some form of dementia, and we also emphasize that they are there to be a friend to our people."
Sadly, at least two past participants have had to drop out of the program because their conditions deteriorated, but their connection to Encore continues.
"We continue to hold their families' hands and are committed to helping them find the 'next thing' for their loved one," said Williams. "Kristen has lots of experience with home care options, so her knowledge is invaluable. We love these people like our family members. They're amazing."
The Encore program relies heavily on donations. A daily fee is charged, but a few of the participants are on scholarship. No one is turned away due to an inability to pay.
The next training session will be May 1, 9 a.m.-noon, at Canterbury. Those interested in volunteering or in getting more information about the Encore program may call 874-1525 or email encorepatti@gmail.com. You may also visit the program online at encorerespite.org or at .facebook.com/encorerespite.
Support for Caregivers
Besides Encore, another resource available to family members and caregivers is a weekly support group that meets at Canterbury. Every Thursday from 10 to 11:15 a.m. people gather to share information, experiences and tips. They also hear from experts in the field. For more information, contact Valerie Boyd at valerie.boyd@canterburyumc.org.
To Read the Original Article, Link Here: https://www.otmj.com/canterbury-umc-encore-ministry/