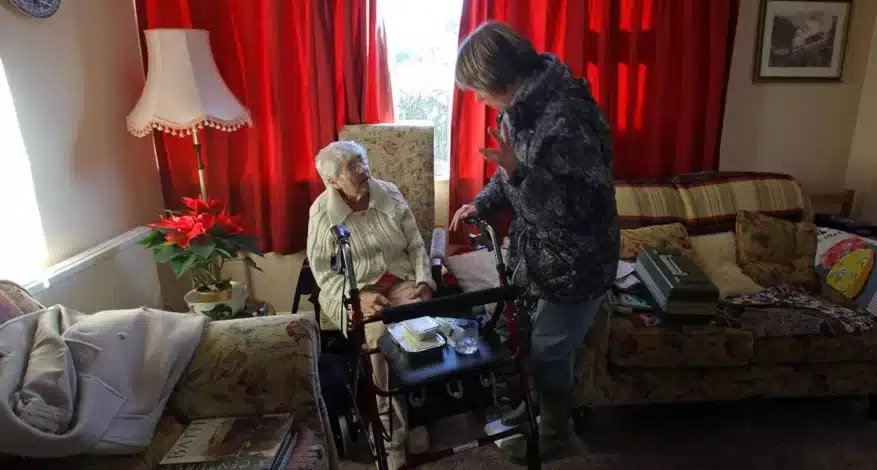 News
NEWS: Caregivers Need to Take a Break
Nearly 44 million U.S. adults are family caregivers, but the vast majority of them aren't receiving any kind of respite care. That's a mistake.
by Mary Kane Kiplinger
For two years starting in 2014, Gerald Johnson drove 110 miles round-trip, twice a week, to take his wife, Nadine, from their home in Auburn, Ala., to Montgomery. Nadine, 77, has Alzheimer's disease, and after plenty of searching, Johnson found a respite-care program in Montgomery that greatly improved the quality of life for both of them. Nadine spent four hours each visit with volunteers who enthusiastically engaged with her and other patients with dementia, learning about their backgrounds, talking, singing and sharing meals, while Johnson got a much-needed break from his caregiving routine.
Johnson, a retired Auburn University political science professor, was so impressed with Nadine's progress at the program that he began volunteering there, instead of going to lunch or doing errands. He also helped start a similar, faith-based volunteer respite effort in Auburn in 2016. "Respite has been a blessing beyond measure, in terms of contributing first to Nadine, and then to me as a care partner," says Johnson, age 78.
For many exhausted caregivers, respite care is more an ideal than a reality. Nearly 44 million U.S. adults are family caregivers, but the vast majority of them—about 85%—aren't receiving any kind of respite care, according to a survey by the National Alliance for Caregiving and AARP. Respite for a caregiver can come in a variety of forms: Perhaps it's an hour or two off to take a class while someone else cares for your loved one, or it could mean utilizing adult day care or a supervised overnight or weekend visit to provide care.
Respite-care services typically are limited, and there's little public awareness of the programs that do exist. There's also a shortage of workers to provide respite for caregivers and few financial resources to help families pay for it, says Jill Kagan, director of the ARCH National Respite Network and Resource Center, an advocacy and research group. "Caregiving is incredibly stressful, and respite is a critical need," she says. "It's just nearly impossible to provide 24-7 care and to work without a break."
Finding respite options is just part of the challenge. Tired caregivers sometimes refuse to allow themselves a break. A parent may complain that he won't feel comfortable with someone else. Or caregivers picture a relative left alone at an understaffed program.
If you're considering respite, you'll need to start by letting go of that guilt and giving yourself permission to step back, says Molly Fogel, director of education and social services at the Alzheimer's Foundation of America. You need time to go to the coffee shop, the library or yoga class to recharge your batteries.
The Alzheimer's Foundation(opens in new tab) has a helpline staffed seven days a week by social workers, who can counsel you on ways to permit yourself respite, says Fogel. Call 866-232-8484. You also can use it to find local respite or adult day-care services.
It may take some time and multiple phone calls to find respite options, says Kagan. But there also are promising new programs, from respite-care camps that give you a weekend off to assisted-living centers that provide respite.
In Montgomery, the respite program is offered four days a week and costs $40 a session, with about 55 families taking part each week. The program has attracted national attention for offering respite that gives patients a sense of purpose while allowing their caregivers a break, says Daphne Johnston, Respite Ministry director at the First United Methodist Church, in Montgomery. (To learn more, go to fumcmontgomery.org/respite(opens in new tab).)
Ask your local churches or synagogues if they offer services such as home visits or even just taking your parent out to lunch. Your loved one's Alzheimer's or dementia specialist may also be able to refer you to available respite care in your area.
Look for Respite Options
To find respite-care programs or services in your community, use the ARCH National Respite Locator Service(opens in new tab). Click on your state for details on individual providers, how to access a Medicaid waiver to pay for care if you qualify and other respite options. Arizona and South Carolina, for example, are among several states that offer voucher programs to pay a friend or relative to provide respite.
The locator also includes contacts for the federally funded Lifespan Respite Care program in your state, another central point of information for state and federally funded programs in your area. Keep in mind that programs will vary greatly from state to state, and they often are funded with minimal, one-time grants. ARCH has a fact sheet with additional resources titled "Nine Steps to Respite Care for Family Caregivers of Persons with Dementia" at archrespite.org(opens in new tab). Your local Area Agency on Aging may also provide respite support through the government's Family Caregiver Support Program. Use Eldercare.gov(opens in new tab) to find a local agency. To qualify, you must be a caregiver assisting someone 60 or older or an Alzheimer's patient of any age. Medicare's hospice benefit also covers some respite care. Contact caregiver advocacy groups for respite options. The Family Caregiver Alliance in San Francisco offers respite camps, where caregivers can take a weekend off while their loved one is cared for at a peaceful wooded retreat. The camps cost about $250.
Anna Cosby, 66, cared for her 99-year-old mother at home until last year and used the camps twice. "I think she really enjoyed it, and I did all the things I wasn't able to do during the week when I'm with her," says Cosby, who works for a health care company.
Ask a local assisted-living facility about respite. More communities are starting to offer nightly or weekend respite care, Kagan says, with fees of about $200 per night. In New England, Benchmark Senior Living (opens in new tab) offers 30-day respite at its 55 facilities, says Karen Bain, senior regional director of resident care. Costs start at $3,000.
If you can't find help, create your own respite. On warm afternoons at her home in Berkeley, Calif., Cosby says she used to garden in the yard while her mother sat on the deck, knitting or coloring. "I tried to find things that would allow me to spend time with my mother and still get some things done," she says.
To Read the Original Article, Link Here: https://www.kiplinger.com/article/retirement/t013-c000-s004-caregivers-need-to-take-a-break.html