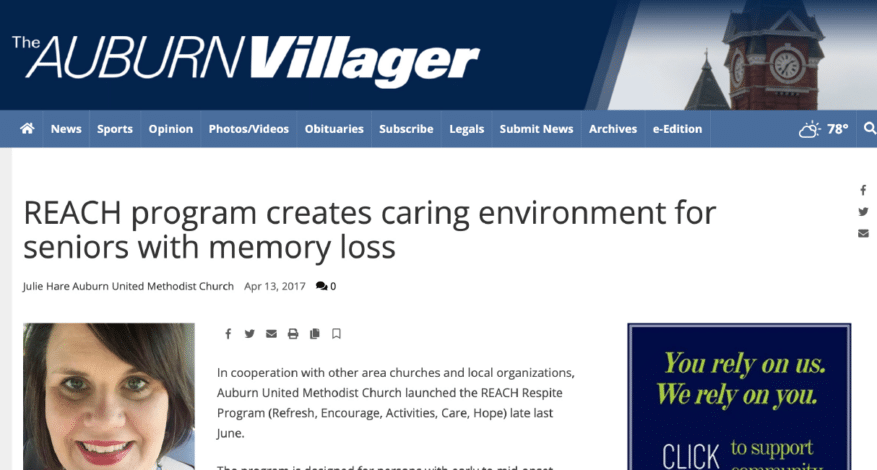 News
News: REACH Program Creates Caring Environment for Seniors With Memory Loss
By Julie Hare Auburn The Auburn Villager
In cooperation with other area churches and local organizations, Auburn United Methodist Church launched the REACH Respite Program (Refresh, Encourage, Activities, Care, Hope) late last June.
The program is designed for persons with early to mid-onset dementia, Alzheimer's disease, and/or other forms of memory loss. REACH currently meets at Auburn United Methodist Church every Tuesday from 10 a.m. – 2 p.m. Participants enjoy a variety of activities including physical and mental exercise, music, art, games and more, plus a nutritious lunch.
Caregivers have peace of mind knowing their loved ones are in a safe, caring environment and are free to enjoy some personal time. We have also developed a monthly caregiver support group to help them on this journey.
I am often asked how and why REACH was started. REACH began as just a dream of mine after I visited the already thriving Respite Ministry at First United Methodist Church in Montgomery, Alabama. I remember speaking these words to Daphne Johnston, director of their program: "Honestly, I am afraid to do it and afraid not to do it."
She encouraged me to trust my heart and trust the Lord and move forward. The rest, as they say, is history. And a beautiful history it is already. We are thriving and growing daily! It has been a blessing to watch this dream become reality and really take off and bless our community, especially our participants, caregivers, and faithful volunteers. We are one big family from a variety of different churches, organizations, and backgrounds.
As I put pen to paper here to write about REACH and why we have taken on this not-so-small task, I am always reminded of some words I read early in the journey. These words are taken from the article Aging, Dementia, and the Faith Community by John T. McFadden.
McFadden writes, "If we should forget God, God will not forget us. And if we forget God, our community of faith can remember us to God and bring God's presence into our lives through means that do not require us to grasp that presence cognitively."
Our goal has been from day one to help people live with dementia, Alzheimer's disease and/or other forms of memory loss. We make it our aim to bring people out of the darkness of memory loss and into the light of life together.
We are nearing the first birthday of REACH and we could not be more excited about this incredible program and where it is headed.  It is a true labor of love for the many volunteers who have been trained to lead the program along with our incomparable Director of REACH, Mrs. Betsy Lethander.
In May, the program will expand to two days a week — Tuesdays and Thursdays from 10 a.m. – 2 p.m. If you have a loved one who might benefit from REACH or you are interested in becoming one of our wonderful volunteers, please contact Betsy Lethander at Betsy.Lethander@aumc.net or email me at Julie.Hare@aumc.net.