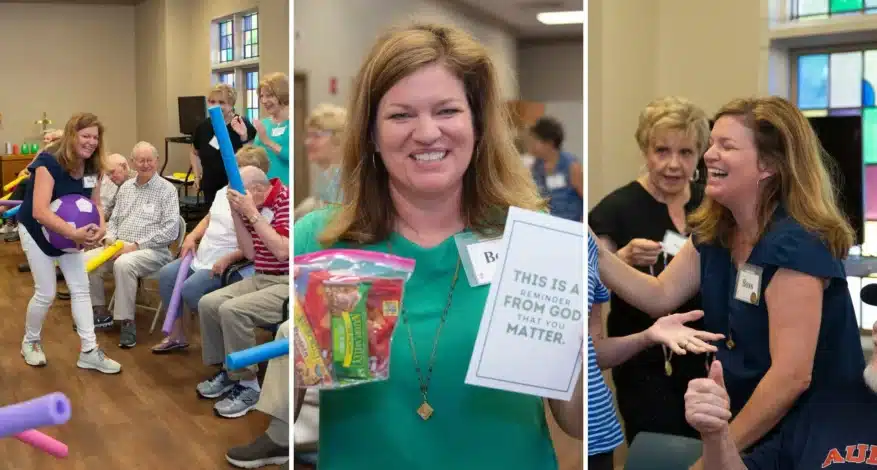 News
Daphne Johnston to Transition to Full-Time Respite for All Director
Director of FUMC Respite Ministry Steps Down to Lead RFA Full-Time.
Daphne Johnston, co-founder and executive director of the Respite for All Foundation, has served as director of the Respite Ministry at First United Methodist Church in Montgomery, Alabama, since she launched the local program in 2012. During that time, she has advised other churches on how to launch sustainable and affordable respite ministries – ultimately joining with caregiver Warren Barrow in 2018 to co-found the RFA to make the goal of spreading the model official.
Daphne recently announced to her local congregation that she was stepping down as director of the FUMC Respite Ministry to lead the RFA full-time. "With all of your love, prayers, support and talent, I will carry this into my next part of my calling," she told volunteers and caregivers. "All of our friends and all of YOU are the body of Respite, the spirit of Respite, and we will continue to bring communities to Montgomery for training. Two years ago, I could not have done this and flown the coop, but the growth and opportunities are astounding for more Respites to develop, and I need to focus my attention to building the Foundation."
She expressed her appreciation to assistant director Laura Selby. "I can't say enough about how Laura has held us together and held me together through all of this. It has been in the works for months and through her effort, love and service, Respite has remained seamless. Her heart represents the joy and love I want every Respite to experience and share in their own communities! She will be staying on as assistant director and leading the transition in early 2023."
Daphne also expressed appreciation to senior minister Jay Cooper. "Jay has been incredibly supportive and helpful in thinking through the transition and how the local church can partner with RFA (Respite for All Foundation) to grow more ministries in all denominations."
Tammy Center has been named the new Respite Ministry director. She has had a long career in healthcare and joins the church staff from a position as marketing director with Answered Prayers, a senior services organization.
Daphne will be transitioning into full time with the Foundation in January 2023.
The Respite for All Foundation (RFA) seeks to be part of the community-based response to a growing global need, providing support for caregivers along with social and recreational opportunities that reduce the isolation of those living with Alzheimer's disease and dementia. There are currently 27 RFA communities in six states, including 13 locations in Alabama, with more in the works. The Respite for All Foundation has been recognized by the Alzheimer's Foundation of America as winner of the 2021 Anne & Irving Brodsky Innovation Grant. Learn more at RespiteForAll.org