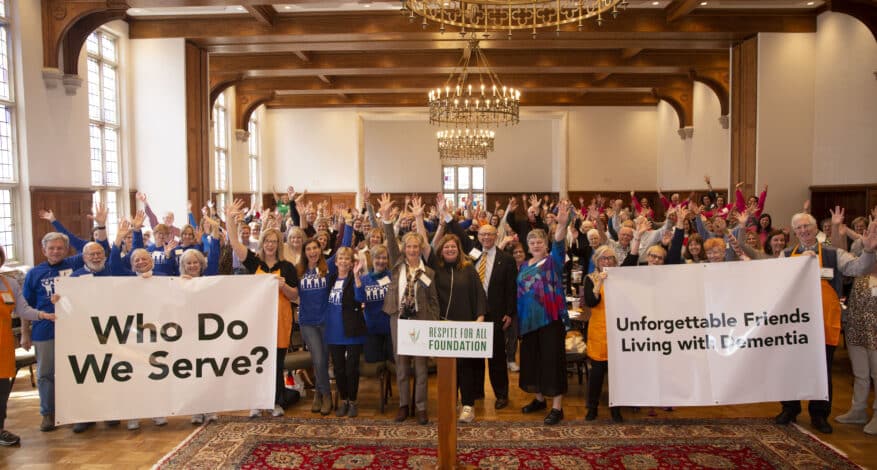 Blog
An Amazing Three Days!
Sessions were Filled with Instruction, Interaction, and Inspiration
Respite for All welcomed 150 attendees from 24 cities in seven states to First United Methodist Church in Montgomery for our annual training conference Feb. 5-7 – and we were so thankful to the 30 local volunteers who stepped up to make sure they were well fed and knew where to park!
Here are just a few highlights from our great line-up of speakers:
Keynoter Karen Stobbe, an improv artist and dementia communication educator, had everyone fully engaged each time she spoke. She told us about her role as a caregiver to both parents and how that led her to connect the principles of improv to a more joyful way of communication. She also talked about respectful language and to remember that the three most important words we can hear are: I need you.
As a bonus, Karen and her husband Mondy Carter kept the room in stitches as we wrapped up the first full day with their improv show.
Lou Lacey, Director of Emotional Wellness, Children's of Alabama, spoke about compassion fatigue, asking, "What meaning do we find in this work and how do we stay connected to this work? How do you keep that passion alive when you're doing this work?" Her talk was tender, caring, and reached into all of our hearts. She also provided some practical everyday coping solutions, such as: talk with someone about your experiences, be able to laugh, take opportunities to move around, don't trust despair, and don't say unkind things to yourself.
United Methodist Bishop Ken Carder, who was a caregiver to his wife for many years, talked with attendees about how the medical environment focuses on losses … the loss of our capacities, for example. We in the faith community offer a different lens. We are all participating in a greater story … in God's redemptive story, and it is in Creation that we find our identity and worth – not in whatever capacities we retain or lose. Though we live in a society that defines us by our capacities, we are more than our capacities. We are beloved children of God.
United Methodist Bishop Lawson Bryan concluded our time together by reminding us that we are on the leading edge of addressing a major social need for which no one else knows what to do. He reminded us as well that caring is discipleship, and the caring we exhibit in respite is discipleship. The image of God that we all bear is never limited to our cognitive abilities.
Is it any wonder came away inspired and ready for action in Respite Ministry? We left with hearts overflowing from the goodness that surrounded us.