RFA's Johnston Appointed to State Alzheimer's Task Force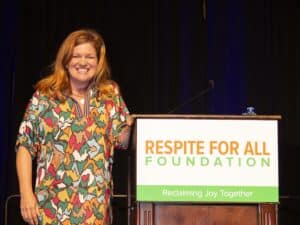 Daphne Johnston, co-founder and executive director of the Respite for All Foundation, has been appointed by Alabama Governor Kay Ivey to serve on the Governor's Task Force on Alzheimer's Disease. The appointment was effective September 28, 2023.
This task force was established through a resolution of the Alabama Legislature approved during the 2023 regular session and has been charged with developing recommendations for addressing a growing need for dementia care. The task force is expected to develop and disseminate strategies, resources and guidance to better serve the affected population while considering methods to increase public awareness and build support for family caregivers.
Johnston said, "I look forward to bringing a faith-based perspective to policy and implementation of the new state plan. The faith community has resources and armies of volunteers ready to take part in providing community for dementia families."