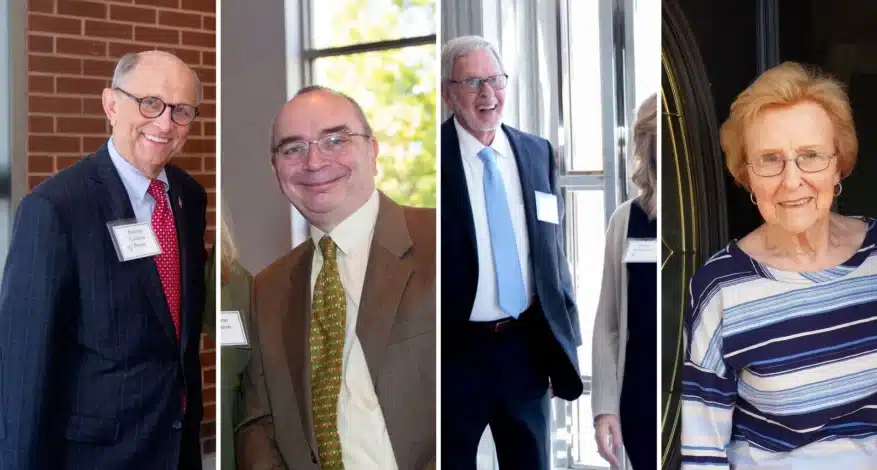 News
RFA Celebrates Champions of All Kinds
Starting a respite community within a church or organization doesn't just happen. It takes an organized effort that moves from desire to decision and through the details that lead up to opening day where volunteers and participants begin gathering for four hours of fellowship and engagement on a weekly basis.
But what gets this ball rolling? Most likely, there's a champion – someone who wants to see this happen, who begins the conversations and who champions the cause.
In the case of several respite ministries within our RFA network, the champion's spark came from the experience of being a caregiver to a parent or spouse living with dementia and learning about the benefits respite provides. The launch of a respite ministry has also been about seeing a need in the community and looking for a way that the church can respond.
More than 10 years ago, Bishop Lawson Bryan was senior minister at First United Methodist Church when his congregation surveyed the Montgomery area for problems that local leaders wanted to solve that they couldn't solve without the church's help. There were lots of needs identified, but the one that kept coming back was "something having to do with Alzheimer's disease and dementia."
No one quite knew what that meant until church member Daphne Johnston approached her pastor and said, "I think I know what to do."
Lawson was a champion who asked questions, listened to input, prayed for answers, and led the church to launch the Respite Ministry. Daphne was a champion who researched the solution and implemented the program.
Caregiver Warren Barrow's wife Dolores had participated in the FUMC Respite Ministry before she passed away. Warren learned about the program from Dr. David Geldmacher, a neurologist and head of UAB Memory Clinic, who had heard about the difference Respite was making for individuals in need of support and engagement. Dr. Geldmacher is in the long list of individuals who come at this issue from a variety of perspectives and now champion the cause.
Warren would become a champion too. He's the one who said to Daphne, "This needs to go national." And he gave the initial gift to create the Respite for All Foundation that Daphne now leads and whose mission is to spread the RFA model through promotion, training and shared best practices.
2023 RFA Board
Warren recently rolled off the RFA Board of Directors, which he chaired for several years, and now serves in an ex-officio capacity. On January 11, during the first meeting of 2023, new chair Lynn Beshear said, "It's clear that we have the board we need." New members include Daniel Lindsey, Andrea McCain, Bill Newton and Tom Watson. Continuing members include Scott Bamman, Lawson Bryan, Elizabeth Crum, Jenny Ives, Anne Elizabeth McGowin and Patricia Seay. They each bring their own unique contributions as champions of Respite, and we are thankful for the wisdom they provide.
Fast Start
Daphne hit the ground running as full-time director, starting January 1. She has presented to local community organizations and also scheduled online or in-person appearances in other states. For example:
February 16 – Daphne is presenting a webinar on the RFA model to the Delaware statewide respite coalition and faith-based leaders.
February 24 – She is presenting a webinar to dementia care specialists in the state of Wisconsin.
March 14-15 – She will be traveling to North Carolina to train the Orange County Senior Center staff and volunteer pool on the RFA model. (RFA's first North Carolina program is scheduled to open in summer 2023.)
March 16 – She will speak during the North Carolina aging conference and meet with local faith community leaders in Raleigh.
March 27-30 – She will be co-presenting at the American Society of Aging Annual Conference in Atlanta, with Dr. Steven Sabat, a Georgetown professor emeritus in psychology. They will be sharing research he conducted on caregivers and the RFA model.
Transform 2023 Is Nearly Here
We continue to finalize details for RFA's annual training conference, Transform 2023. More than 120 directors and volunteers from 25 RFA communities in our network, along with several other communities in the development stages, will be with us in Montgomery Feb. 5-7. That's double the number of attendees who joined us last year.
FYI: How I Got Involved
I look forward to seeing a lot of you at the training conference. In case you don't know me, here's a bit of background.
I have been a full-time writer for more than 20 years, working primarily on marketing and communications projects for clients, though I've been in this field for a bit longer. Some years back, I was writing a series of stories that led me to interview Mary Ann Hannah, whose husband Gene, a long-time Baptist minister, was participating in the Respite Ministry at FUMC. During my interview, Mary Ann told me how much the ministry meant to them. "You should go visit," she said. "You should learn about it."
Mary Ann is the one who championed Respite to me
Anyone can be a champion of Respite, and Respite needs all sorts of 'anyones.' We hope you will be champion of Respite and help us spread the mission by starting conversations that can get the ball rolling.